Features
Grip Sheet
– GRIP SHEET is used as a complement to film for securing your loads on the pallet until they reach your customers.
– GRIP SHEET will preserve the homogeneity of your pallets from the palletization area to the filming area, but also on your customers' premises once the film has been removed.
– GRIP SHEET will make your internal handling operations safer with no need for filming between the palletization and storage or order preparation areas, thus allowing you to reduce your plastic film waste.
– GRIP SHEET will help you to reduce your shipping costs by optimizing your pallet loading patterns or by increasing the number of rows of products per pallet shipped.
Grip Sheet is re-usable and recyclable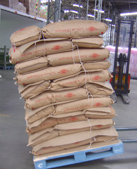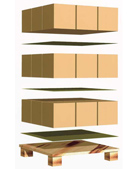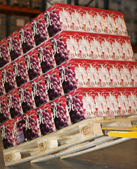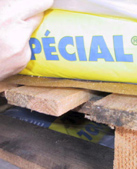 ---
Benefits
ANTI GLISS
GRIP SHEET separator sheet stabilizes your palletized loads by increasing the coefficient of friction.
ECONOMIC
GRIP SHEET as a low unit cost. It compares well with cardboard separator sheets or corner boards. It can be reused for your internal handling needs.
PROTECTIVE
Certain qualities of GRIP SHEET are waterproof and therefore protect your products from humidity rising out of the pallet GRIP SHEETis not intended to be in direct contact with the product itself, but rather with its packaging. Nevertheless all our qualities are suitable for contact with food.
SIMPLE
GRIP SHEET is used manually as a conventional separator sheet.
More than 200 companies also use it on robot palletizers with separator sheet pick-up by suction cups.
EFFECTIVE
GRIP SHEET is effective whatever the weight, type of load or nature of the packaging (film, paper, plastic, cardboard). It will protect your packages without soiling or tearing.
---
SPECIFICATIONS
Download :
GRIP SHEET 90GRIP SHEET 120GRIP SHEET 150GRIP SHEET 150PHOTO
GRIP SHEET 220GRIP SHEET 240PHOTOGRIP SHEET 300 GRIP SHEET 450PRODUCT SHEET GS
---
APPLICATIONS