Endupack is certified "FSC® Chain of custody" since the 26th of January 2016.  This certification is fully in line with the company's environmental policy of promoting sustainable development while meeting the requirements of its customers.
FSC®, What is it ?
FSC® (Forest Stewardship Council®) is an independent, non-governmental and not-for-profit international organization. Its mission is to ensure that forest management is ecologically appropriate, socially beneficial and economically viable to meet the needs of present and future generations.
Ecologically appropriate: into guaranteeing that wooden products are maintaining the forest biodiversity, productivity and ecosystems functionality.
Socially good: into helping local populations to preserve forest resources, through many ways.
Economically viable: into structuring the forest operations in order to increase their profitability without generating financial profit which could affect the forest resources, ecosystem or associated communities.
Products from FSC®-certified forests are controlled from their origin, throughout the manufacturing process and up to their distribution. The FSC label guarantees the responsible use of global forest resources.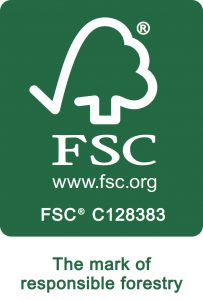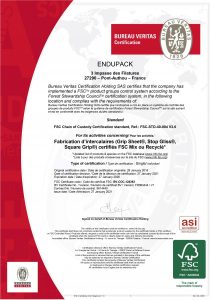 ENDUPACK : FSC® certificat code BV-COC-128383
FSC®, FOR WHICH PRODUCTS ?
Only the products based on paper can be concerned by the FSC® certification. The Grip Sheet and the Square Grip 90, 120, 150, 220, 330 and 450g are entirely manufactured with Certified FSC® paper.
| | | |
| --- | --- | --- |
| Brand | Weight | FSC® certified? |
| | 90, 120, 150, 220, 300, 450 | Yes |
FSC®, WHICH LABEL FOR WHAT ?
The labelled product is made from 100% recycled fibre.
The labelled product is made from a mixture of fibres of different origins :
– at least 70 % of the fibres are from FSC-certified forests and/or recycled fibres (post-consumer for wood products),
– no more than 30% recycled fibre (pre-consumer for wood products), and/or so-called "controlled" fibre.
Please contact us for more information.